Roger Wagner Artist Profile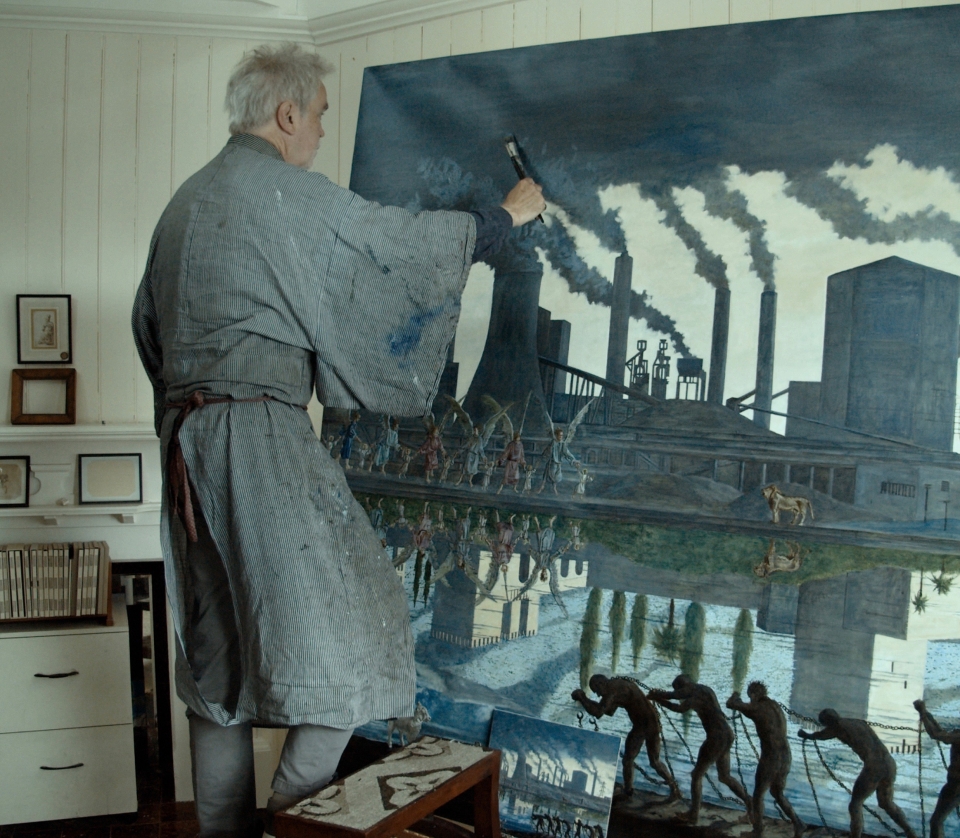 Roger Wagner
Born in 1957, Roger Wagner read English at Oxford University before studying at the Royal Academy School of Art. He has been represented in London since 1985 by Anthony Mould Ltd exhibiting there many times. Other one man shows include retrospectives at the Ashmolean Museum in 1994 and 2010. He has produced several books of illustrated poems and translations: Fire Sonnets (1984), In a Strange Land (1988), A Silent Voice (1997), Out of the Whirlwind (1997). The Book of Praises – a translation of the psalms Book One(1994), Book Two (2008), Book Three (2013). His major work Menorah was acquired by the Ashmolean Museum in 2010 and hangs in St Giles Church Oxford. His first stained glass window was installed in St Mary's Iffley in 2012. It was joined in 2014 by a font cover designed in collaboration with Nicholas Mynheer and an altar cloth installed in 2019. In 2014 he also painted the first portrait of Archbishop Justin Welby which was installed in Auckland Castle. In 2016 Oxford University Press published The Penultimate Curiosity co-authored with Andrew Briggs.In 2019 The Canterbury Press published a collection of his poems and images The Nearer You Stand, and a selection of his illustrated psalm translations The Book of Praises in 2020. In 2022 he was elected an Honorary Fellow of Lincoln College Oxford. A permanent collection of his work in the Faith Museum at Auckland Castle is due to open in 2023.
Individual Exhibitions
1985 Anthony Mould Contemporary London
1986 Gallery 44 The Aldeburgh Festival
1988 Anthony Mould Contemporary London
1994 The Ashmolean Museum Oxford
1996 The Bartlemas Chapel Oxford
1996 Anthony Mould Contemporary London
1997 Ely Cathedral
1997 Norwich Cathedral
1997 Edmunsbury Cathedral
1997 Southwark Cathedral
1998 Wells Cathedral
1998 Chester Cathedral
1999 Anthony Mould Contemporary London
2000 Anthony Mould Contemporary London
2001 The Prince's Foundation
2001 Worcester Cathedral
2004 Lady Margaret Hall
2004 Anthony Mould Contemporary London
2006 Phillip Mould Historical Portraits
2008 Montgomery Town Hall
2010 St Giles Church Oxford
2010 The Ashmolean Museum
2012 Norwich Cathedral
2013 Anthony Mould Contemporary London
2018 Fuller Seminary Pasadena.
Collections

The Ashmolean Museum
The Fitzwilliam Museum
The Natwest Collection
Canary Wharf Ltd
The Takeover Panel
Lady Margaret Hall, Oxford University
The Vintners Company
Odey Asset Management
Dioezesanmuseum Regensburg
Auckland Castle Trust
Eton College
Writings by Roger Wagner
1984 Fire Sonnets, The Besalel Press
1988 In a Strange Land, The Besalel Press
1994 The Book of Praises: A Translation of the Psalms, The Besalel Press
1996 A Silent Voice, The Besalel Press
1997 Out of the Whirlwind, Solway
2006 Art and Faith, in Public Life and the Place of the Church, Ashgate
2008 The Book of Praises:A Translation of the Psalms (Book Two), The Besalel Press
2013 The Book of Praises:A Translation of the Psalms (Book Three), The Besalel Press
2016 The Penultimate Curiosity (with Andrew Briggs) OUP
2018 The Curious Science Quest (with Julia Golding and Andrew Briggs) Lion Hudson
2019 The Nearer You Stand
Films
The Penultimate Curiosity Reel Issue Films 2016
Broadcast DirecTV 14th 21st April 2018,
Streamed CuriosityStream 2018.
Broadcast EWTN April 2019
Group Exhibitions
1981 Royal Academy Diploma show
1989-1990 New Icons Mead Gallery University of Warwick, Royal Albert Museum Exeter, Usher Gallery Lincoln
1991 Images of Christ Albermarle Gallery London
1993 Images of Christ Northampton Gallery and St Paul's Cathedral
1994 The NatWest Collection The Royal Society of Arts
1995 The NatWest Collection The Royal Academy
1999 Landscape and Imagination The Prince of Wales Architectural Institute
1999-2000 The Light of the WorldThe Edinburgh City Art Gallery
1999 Europe Art et Passages Paris-
2000 The Salutation Oxford
2001 Help the Hospices Auction Thomas Gibson Fine Art and Sothebys
2001 Blake's Heaven Scolar Fine Art
2002 Roads to Damascus The Brewhouse Gallery Eton College
2004 Presence St Paul's Cathedral
2004 Loughborough University
2004 The North Light Gallery
2004 The Ark-T Centre
2005 St Giles Church Oxford
2006 Queen's College Oxford
2007 Queen's College Oxford
2007 Blake's House London
2008 Exeter College Oxford
2009 Queen's College Oxford
2010 Lent Concerts Queens College Oxford
2011 Insights into British Art Today Kunstammlungen das Bistums, Regensburg
2012 The Ocean in a Tree Snape Maltings
2014 Lent Concerts Queens College Oxford
2015 Lent Concerts Queens College Oxford

2016 Romancing Wales MOMA Machynelleth
2016 Pewter Live Pewterers Hall
2016 Lent Concerts Queens College Oxford

2019 Matter Matters Beijing (Czech-China Contemporary Art Gallery)

Hefei (Dadi Art Museum)

Kunming (TCG Nordica Gallery)
Writings about Roger Wagner
1985 In a Strange Land. Peter Levi Anthony Mould Ltd
1986 Shoreham in Dockland The Tablet 18thJune
1989 New Icons. Rupert Martin Universityof Warwick
1990 Pamela Tudor-Craig The Church Times 16th Feb
1990 Jane Norrie Arts Review 23rd Feb
1990 Cyril Barrett Modern Painters vol3 no1
1993 Images of Christ. Tom Devonshire Jones (Ed) St Matthews Northampton
1994 Roger Wagner Paintings 1982-1994 Chris Miller The Ashmolean Museum
1994 Seeing and Believing. Chris Miller Oxford Today Hilary Issue 1994
1994 An English Visionary of Genius. Godfrey Barker The Daily Telegraph Jan 31st
1994 Giles Auty The Spectator 5th Feb
1994 Paul Oldfield The Oxford Times Jan 28th.
1994 Pamela Tudor-Craig The Church Times 11th Feb
1994 A New World Vision. Felix Martin The Word
1995 Roger Wagner°s Visionary Landscapes. Rupert Martin. Image Journal Issue 10
1995 Katherine Eustace Anthony Mould Ltd
1995 Richard Davey The Church Times 3rd Nov
1998 The Art of God and the Religions of Art. David Thistlethwaite Solway
1999 A Silent Voice. Alan Powers. Anthony Mould Ltd
1999 A Journey into Christian Art. Helen de Borchgrave Lion Publishing
1999 The Light of the World. David Patterson (Ed) City of Edinburgh Museum
1997 Europe,Art et Passages. Sevie Riedinger Mairie de Paris
1998 The Salutation. David Patterson. St Andrews Oxford
2001 Blue Heaven. Nicholas Cranfield Church Times 1st June
2002 Borderlands. Daphne Facey. Cambridge AUP
2004 Presence. Rowan Williams. Bible Lands
2004 Imitations of Christ Rowan Williams The Guardian Jan 31st
2004 Allan O'Sullivan The Baptist Times November 18th
2004 The Passion in Art. Richard Harries. Ashgate
2004 Seeing Salvation Now. Rupert Martin
2004 An Extraordinary Gathering of Angels. Margaret Baker
2005 Theology and the Power of the Spirit. Grovesnor Essay No2
2005 Art and Christianity No.43 Rowan Williams.
2005 Oxford Times Paula Clifford September
2009 Theodore.L.Prescott 'Desire and Longing' Image Journal 60
2009 Chris Miller Forms of Transcendence: The Art of Roger Wagner. Piquant
2010 The Daily Telegraph Charles Moore 25th February
2010 The Baptist Times March 5th
2010 The British Art Journal Editorial Vol IX No2
2010 Teresa Thompson Passion and Power Oxford Times March 8th
2010 Pamela Tudor Craig The Longing of the Soul Church Times March 26th
2010 Church Times April 1st
2010 The Door April
2010 Brian Cooper Baptist Times October 15th
2011Von Claudia Böckel Mittelbayerische Zeitung Regensburg July27
2012 The Oxford Times July 19
2012 Tom Denny ACE Journal Winter
2012 Pamela Tudor Craig Wagner's Tree of Life Church Times 16 November
2012 Simon Jenkins Church Times 16 November
2012 Laura Gascoigne Visionary Eye The Tablet 17 November
2013 Back Page Interview Terence Handley MacMath The Church Times 15 February
2013 Colin Harrison, Anthony Mould Ltd
2013 Christopher Irvine The Cross and Creation in Christian Liturgy and Art
2013 Mark Hargreaves The Art of the Everyday
2013 Richard Harries The Image of Christ in Modern Art
2014 The Times Richard Harries 18th January
2014 Charles Moore The Spectator 22 March
2014 The Daily Telegraph 29 March
2014 The Independent 25 March
2014 The Times 25 March
2014 The Guardian 25 March
2014 The Daily Telegraph 25 March
2014 The Northern Echo 25 March
2014 The Belfast Telegraph 25 March
2014 The Telegraph and Argus 25 March
2014 The Sunday Post 25 March
2014 The Sunday Times Bryan Appleyard 2 November
2015 The Church Times 9 January Pamela Tudor-Craig
2016 The Church Times 24 March David Hoyle
2016 Romancing Wales Peter Wakelin
2017 Regensburger Sonntagsbibel
2019 Master of timeless modernism Patrick Heren Standpoint
2023 Heaven in the Ordinary Beatriz Santos The Tablet 12 August
Films and Broadcasts about Roger Wagner
1994 The Heart of the Matter 'Blasphemy" Joan Bakewell
2012 The One Show Sister Wendy Beckett 12 December
2016 Something Understood interview with Mark Tully BBC Radio 4